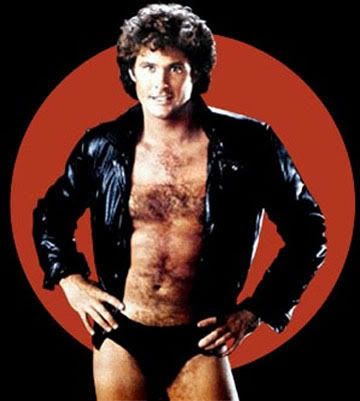 Today, my friends, is an epic day. Today, I engage The Hoff in figurative combat. Today, is Jen vs. The Hoff. Today, we see how I, a mere mortal, stack up against that shining beacon with wings of tenderness, David Hasselhoff.
Let's start at the beginning. A very good place to start. When you read, you begin with A B C. When you prepare for imaginary battle with El Hoff, you begin with
The Basics
Names
Jennifer Armintrout. Fits perfectly in place of the words "Jesus Christ, Superstar" in the song "Jesus Christ, Superstar." Has eighteen letters.
David Hasselhoff. Fits in place of the words "Jesus Christ, Superstar" if you stretch the first syllable of "David" out a bit. Has fifteen letters.
ADVANTAGE: Jen
Initials
Jen: JLA Also stands for Justice League Of America.
Hoff: DMH Stands for Hoffski.
ADVANTAGE: Hoff
Body
Jen: Flabby I don't like fruit.
Hoff: Terrifically sculpted/cuts a dashing figure in lifeguarding trunks But slightly hairy.
ADVANTAGE: Hoff
Vocabulary
Jen: Has used "verisimilitude" in a sentence, successfully. No one knew what it meant.
Hoff: Coined the phrase "Hofftastic". No one knows what it means, either.
ADVANTAGE: Draw
Personal Style
Author Photos
Jen: Brooding, in graveyard Also, taken by Jill Welch, coolest photographer on the planet.
Hoff: Grinch-who-stole-Christmas-style-sneer-over-sunglasses pose Not taken by Jill Welch.
ADVANTAGE: Jill Welch
Worst Outfit
Jen: Little House On The Prairie style dress. Wore it in Kindergarten. Never got over it.
Hoff: Piano key scarf and light up jacket. Wore it in Germany to sing above the Berlin Wall. Germans went crazy crazier.
ADVANTAGE: Hoff
Fly Ride
Jen: Your mom A green Dodge Neon, actually.
Hoff: KITT Effeminate talking car.
ADVANTAGE: Your Mom Hoff.
Career
Page Counts
Jen: Usually around 400. Above or below, depending.
Hoff: 270. Not counting bibliography, discography, television resume and other assorted end materials.
ADVANTAGE: Jen
Fight Scenes
Jen: Vampires getting killed in creative ways. In book four, Vampires, Werewolves, Zombies and Golems in a giant throw down.
Hoff: Transvestites chase him out of a New Zealand bar. I'm not joking, it's in his book.
ADVANTAGE: Jen
Australia Thinks:
Jen: I'm okay. My book did pretty well there.
Hoff: is indispensable Prime Minister John Howard allegedly said "You've got to stay for the economy, the spirit and the soul of Australia."
ADVANTAGE: Hoff. Also, Australia. Everyone wins!
Internet Presence
Jen: Hasn't checked her MySpace in weeks. Has also forgotten her Facebook password.
Hoff: King Of The Interet. See videos below.
ADVANTAGE: Hoff
World Records Held
Jen: Unofficial record. For most times accidentally poking one's self in the eye.
Hoff: Official Guinness World Record. For most watched television show ever (Baywatch).
ADVANTAGE: Hoff
Well, there you have it. The Hoff is cooler than me to the tune of 7 to 3. Jill Welch made an impressive showing in her absence.
I'm off to nurse my wounds– and by that I mean "miraculously heal them with the power of Hoffski"– and get some work done whilst waiting for the Crow's Nest to open so I can get me some breakfast.
Keep it real, y'all.